Victoria and Kai married Saturday 2nd September 2023
Julian and I would like to thank you very much for your excellent wedding car chauffeur services at our daughter Victoria's wedding. Derek the chauffeur was lovely and did a super job for us. He was so friendly and considerate throughout and after the ceremony drove Victoria and Kai to their chosen city locations for photographs. Very best wishes to all your team,
Kind regards, Christine and Julian
Samantha Anthony married Friday 11th August 2023
Hi Robert
I hope you are well. We are just back our honeymoon and getting back to normal after the wedding. I just wanted to say a huge thank you for our wedding car and for staying on at the wedding for us to get photographs. You made my Dad and I feel so comfortable on the drive to the wedding venue, we will be recommending your service going forward.
Thanks again,
Sam
Jemima & Easton married on Saturday 3rd June at Murrayfield Parish Church followed by the reception at Barnbougle Castle.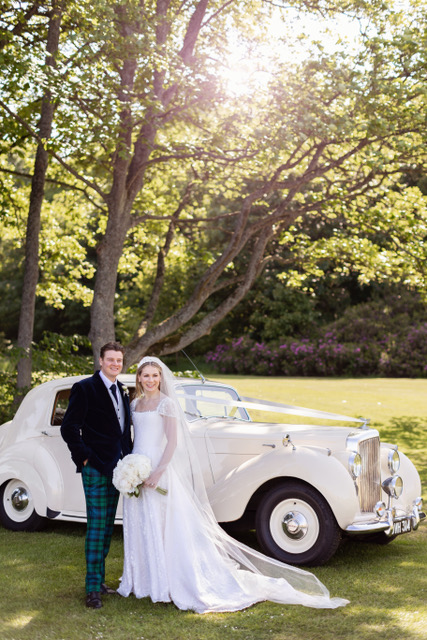 Hi Robert,
Just a quick email to say thank you very much to yourself and your team for the stunning cars on the 3rd of June.
We had such a great time in the car's both to the church and to Barnbougle Castle.
Our photographers did end up using the car's for a lot of our photos. We are more than happy for you to use any of these photos on your website or social channels and the photographs have also captured some photos of just the car's and the Bentleys features which I thought you may like.
Many thanks again.
Jemima & Easton
Amazing Cars & Chauffeurs !
June & David married on Saturday 1st April 2023 at St Stephen's Church, Comely Bank Road, Edinburgh.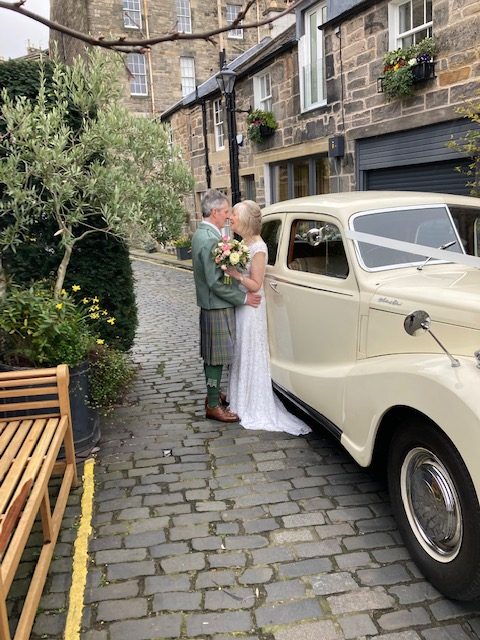 What an incredible wedding day we had last Saturday. As our sisters from Italy and the USA were still with us the celebrations extended into Monday. The cars were amazing as were their chauffeurs. A huge thank you to yourself and Derek for your personal touch. I should have suspected that David Louden and yourself would have come up with a plan to take photographs of us and our car at a different location. Very much looking forward to seeing all of the photos. The 2 flower girls were in their element in the limousine and will talk about it for some time I think.
We hope that you and your family enjoy the Easter weekend holiday.
Best wishes
June and David
The BEST experience!! Gorgeous car and amazing service.
Ariana & Cameron married at St John's Church, Lothian Road, Edinburgh 21st June 2022
I can't say enough good things about Lothian Classic Wedding Cars!!! Truly one of the best decisions of the day. I underestimated how special the time spent in the car would be – first with my dad going to the ceremony, and then after the ceremony with my husband on our way to the reception. Robert was truly so kind and accommodating in every way! Even after the wedding, Robert found my sixpence in the backseat of the car. It fell out of my shoe, and he offered to send it back to me in the states! I can't recommend them enough. I'm the type of person that combs through reviews to find the perfect vendor and if you're the same, search no further. They are truly the best!! So responsive, so kind and a white glove experience start to finish. The car was immaculate, absolutely stunning. We hired the 1965 Bentley. Beautiful car, wonderful service, it made the day go so smoothly and those transport periods were some of the sweetest moments of the day to soak up every second in what felt like a whirlwind of a day! Don't think twice, book their service and you'll be so happy!!!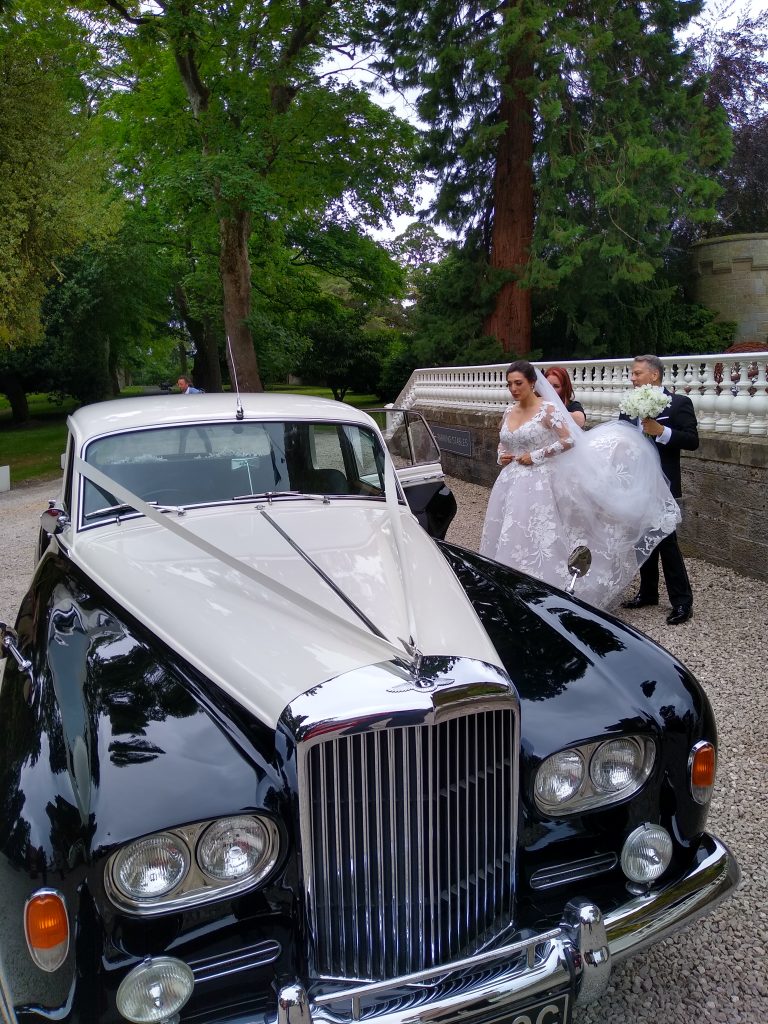 Charlotte married at City Chambers, High Street, Edinburgh 22nd July 2022
Excellent service – couldn't have asked for more!
The Bentley was stunning and a great addition to our wedding day! Our driver was so kind and helpful, he was happy to move the car to accommodate pictures (which he did several times with a smile on his face!) Would highly recommend. Charlotte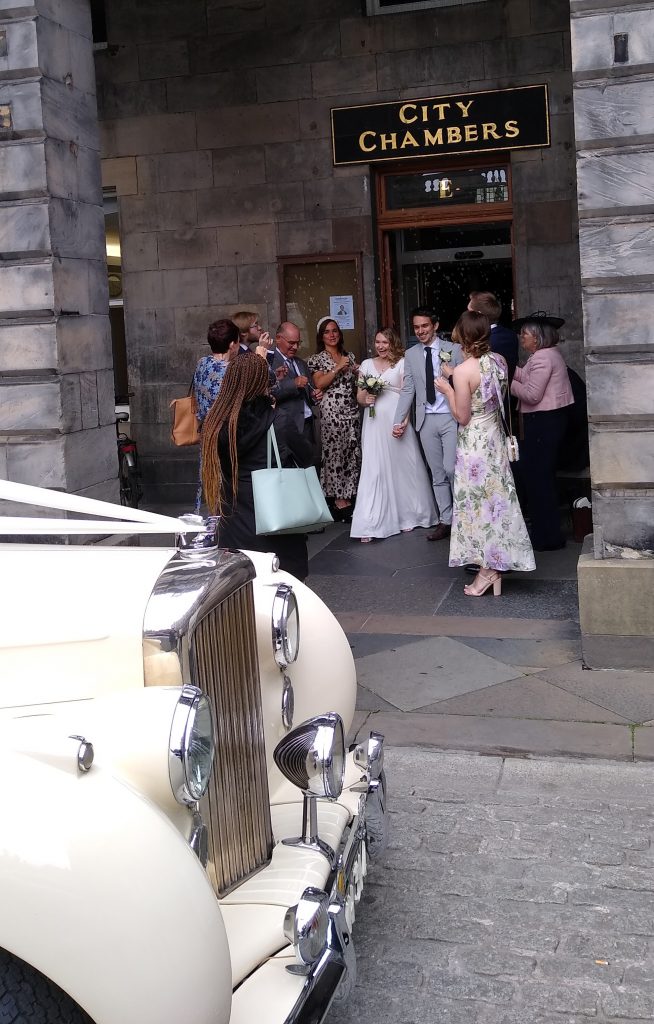 Lucy & Aresh married at Crichton Collegiate Church on Saturday 23rd April 2022
Hi Robert,
Hope you're well!
Just wanted to say a big thank you for the car ride on Saturday.
The Bentley was amazing and it was so lovely to have you driving us!
Thank you very much- it was such a lovely touch to our wedding!
Lucy & Aresh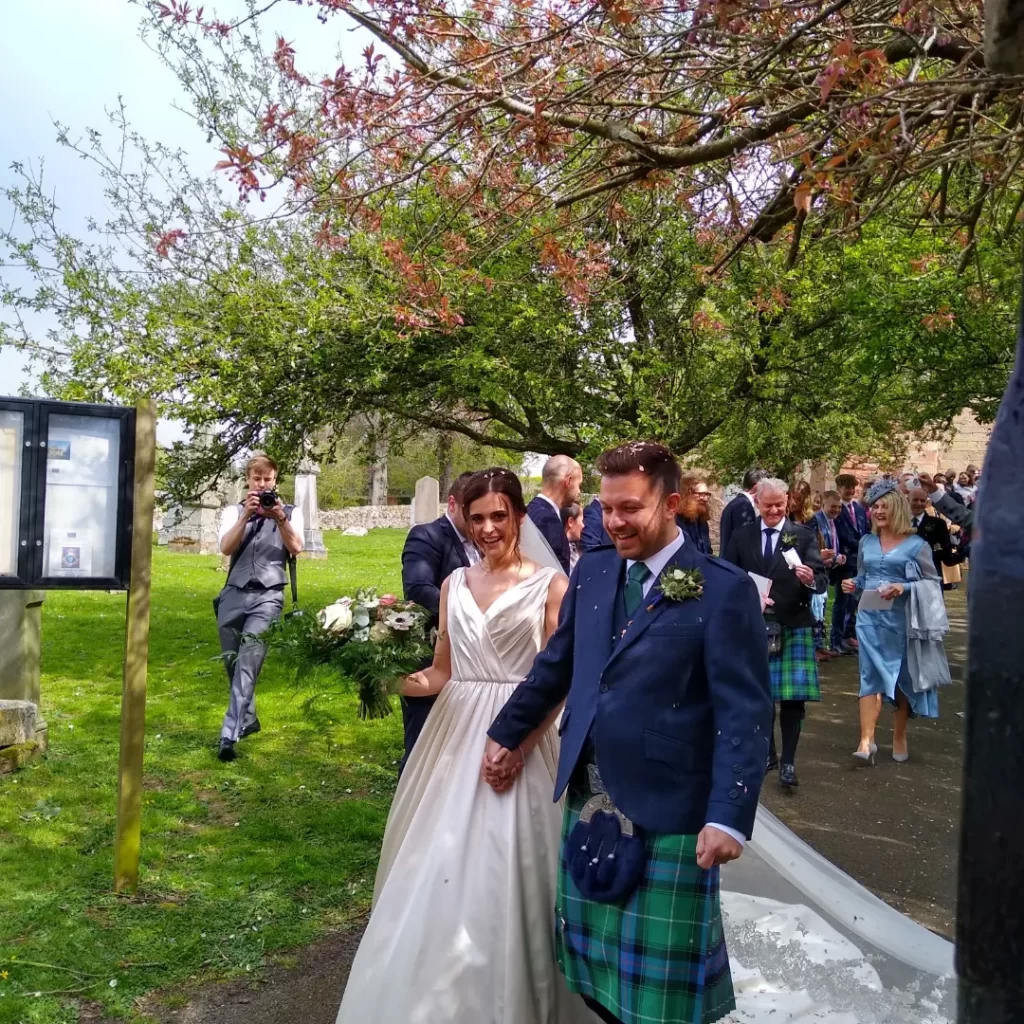 Payge & John married at St Patrick's RC Church, Edinburgh 7th November 2021
Just wanted to say huge thanks for providing an excellent service for my daughter Payge on her wedding to John McCusker in Edinburgh on 7th November. The car was gorgeous and our chauffeur Derek was exceptional….such a wonderful man making us laugh, keeping us calm and helping in every way he could….he really made the day extra special. Also thank you to Robert for helping me choose the perfect car for them. Such excellent service from a truly wonderful company. Thank you for making my daughter's and my new son-in-law's day so special.
Kim Temple mother of the bride.
Wendy & John married at The Hilton at Edinburgh Airport on Saturday 16th October 2021
So glad we discovered Lothian Classic Wedding Cars. From the day we went to see the cars through to my wedding day the service was excellent. All the cars were immaculate, very professional and on time. I loved every minute. Great photo opportunities with the car and my son loved sitting in the car. Highly recommended.
Many thanks Wendy & John.
Scott B Matheson married at City Chambers, Edinburgh on 17th September 2021
Exceptional Service!!!
Robert picked up myself and my best man in the 1952 Austin Sheerline saloon. We had a good chat on the way to the ceremony-I felt very relaxed, my nerves had disappeared. My wife said her driver and the bridesmaids driver were very nice chaps. The cars were beautiful. Our day was made Extra Special by the 3 beautiful cars and drivers. Highly recommended.
Thanks again Scott & Charlie
Alan & Gemma married at Barnbougle Castle 23rd October 2021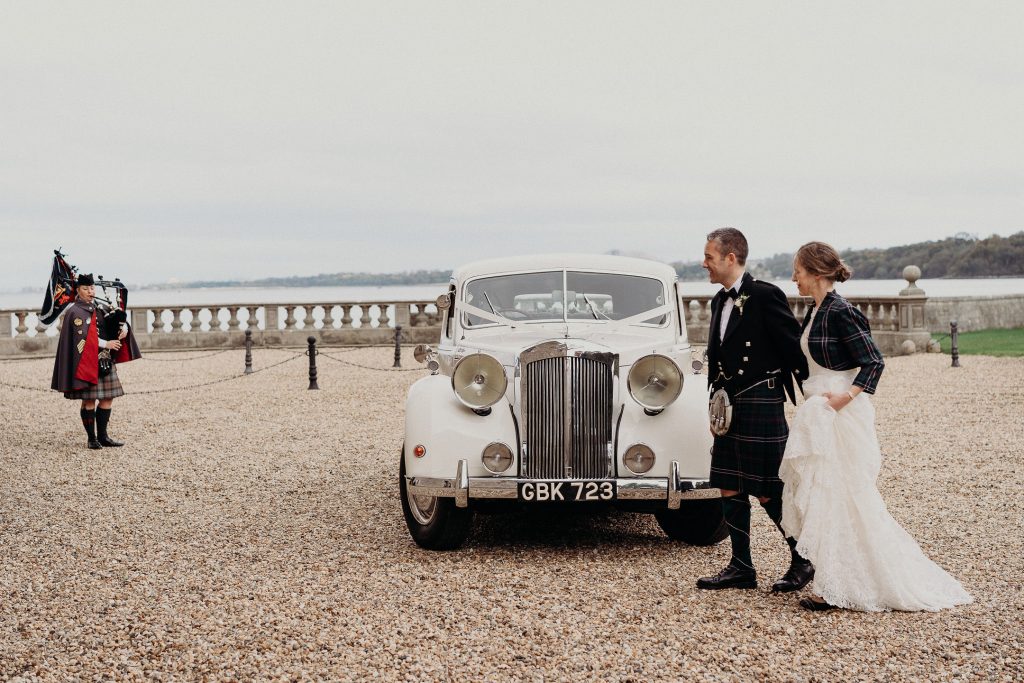 Hi Robert,

We wanted to write to you to thank all of your team for the friendly, highly professional and excellent service that we received from Lothian Classic Wedding cars from start to finish last October.
Our driver was exceptional and made us feel so comfortable and relaxed on our Wedding Day.
We would highly recommend your company to everyone!
We hope that you are all keeping well and thank you very much once again.
Best wishes,
Alan and Gemma
Rebekah Cameron married at Dalkeith Baptist Church followed by the reception at Winton House on 17th July 2021
Brilliant Service! We hired two classic cars for our wedding on 17th July 2021. The cars were fab and Derek was a great driver, lovely and friendly and really calming presence. He took us to the church then kindly took us to my Grandma's care home where he waited for us while we went in to visit, then on to Winton House.
Helped make the day really special – thanks so much!
Joanne & Andrew Neville married at Glencorse Kirk on Saturday 31st July 2021
Just wanted to send you a quick email to thank you for all your hard work on Saturday delivering us all to Jo and I's wedding at Glencorse House! Jo and I couldn't be happier with how the day went and having a ride in the classic cars was an experience to remember!
Thank you for all your support in guiding us to the day itself in what were very difficult circumstances but hopefully as we move into August those are continuing to ease and your work will begin to return that little bit closer to normal.
Thanks for everything.
Kind Regards,
Andrew & Jo
Lauren Burnett married at Cairns Farm Estate Saturday 3rd July 2021
Just a quick email to say thank you for Saturday. The car went down really well and was perfect.
And as I said before the registration number LAS was well received as Lauren was referred to Las B by her friends growing up.
Also please pass on our thanks to Ian our driver, who was outstanding on the day.
Kindest regards Peter Burnett father of the bride.
Olivia & Jamie married at Greyfriars Kirk on Saturday 29th May 2021
Just a quick note to say thank you so much for last Saturday! We had such an amazing day, and absolutely loved the car and the whole experience.
Thanks for helping make our day so special!
Liv and Jamie
Francesca Granger & Steven Young married at Crail Collegiate Church 19th October 2019
Robert, thanks for a great day on my daughters wedding in Crail. The cars were excellent as many of the wedding guests mentioned.
Yourself and your other driver are a credit to yourself and the company, very professional and totally committed to giving a great service.
All bridesmaids, mother of the bride, father and the bride herself felt totally at ease with the trip to the church.
To even supply a hamper with a few bubbles and umbrellas with bottled water for the travelling car guests is a great personal touch.
Thanks again Ken Granger father of the bride
Jennifer Torres married at Tynecastle Stadium, Edinburgh 12th September 2019
Cannot recommend Lothian Classic Wedding Cars highly enough!! We hired two cars and they were absolutely amazing and everything we imagined. Derek and Robert were our drivers and we couldn't have asked for more-true gentlemen. Thank you again Jen & Jose
Kathryn Olivier married at St Mary's RC Cathedral, York Pace, Edinburgh 3rd August 2019

Lothian Classic Wedding Cars provided an amazing service for our wedding. We had Derek as our chauffeur in the 1948 Bentley and he put everyone at ease making it a special and memorable drive. Thank you once again. The Oliviers
Linda & Andy Penman married at Fairfield House, Dalkeith 26th July 2019

We had Derek drive the beautiful Daimler Vanden Plas Limousine for my wedding day. He put everyone at ease. I highly recommend this company. Thanks again from Linda Penman.
Gary & Amanda Anderson married at The Scottish Mining Museum, Newtongrange 20th July 2019

Thank you for our beautiful cars on our wedding day. Our chauffeur was so helpful. Nothing was any trouble, the cars were immaculate. Gary & Amanda Anderson.
Rosalind & Simon married at the Botanic Gardens, Edinburgh 22nd September 2018.
Thank you very much for your assistance yesterday. You helped make the day very special for my daughter. The vintage Bentley was just what we wanted to start off a successful day.
Mike Manderson father of the bride Varrie who married Stephen at Hopetoun House on Saturday 15th September 2018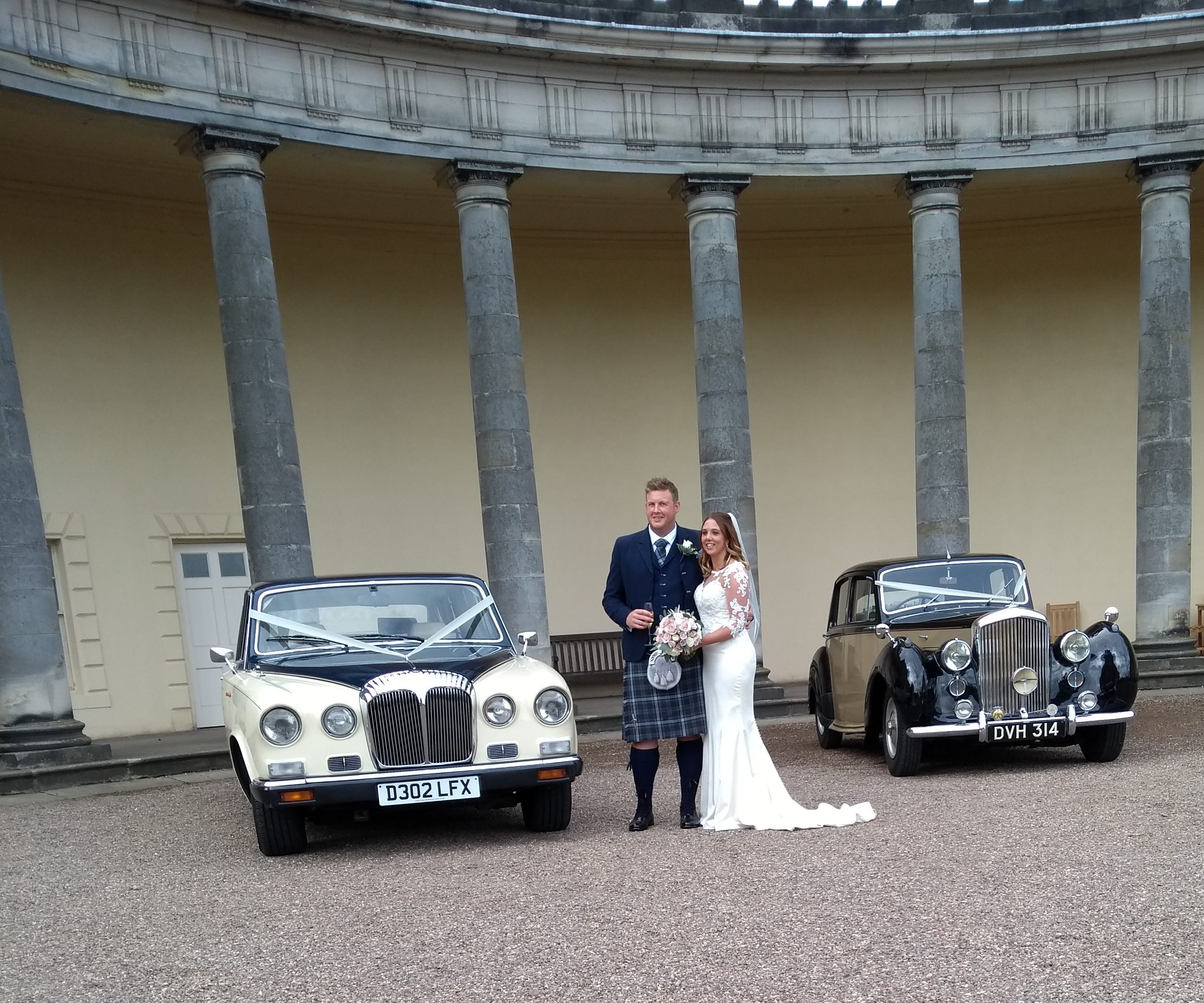 I want to thank you for providing the cars for my son's wedding and helping to make it such a special occasion. A special thank you to the drivers who were very attentive and professional.
Sorry for taking so long to thank you but I now have a photo of them with the car, it looks fantastic.
Lillian Gray Mother of the groom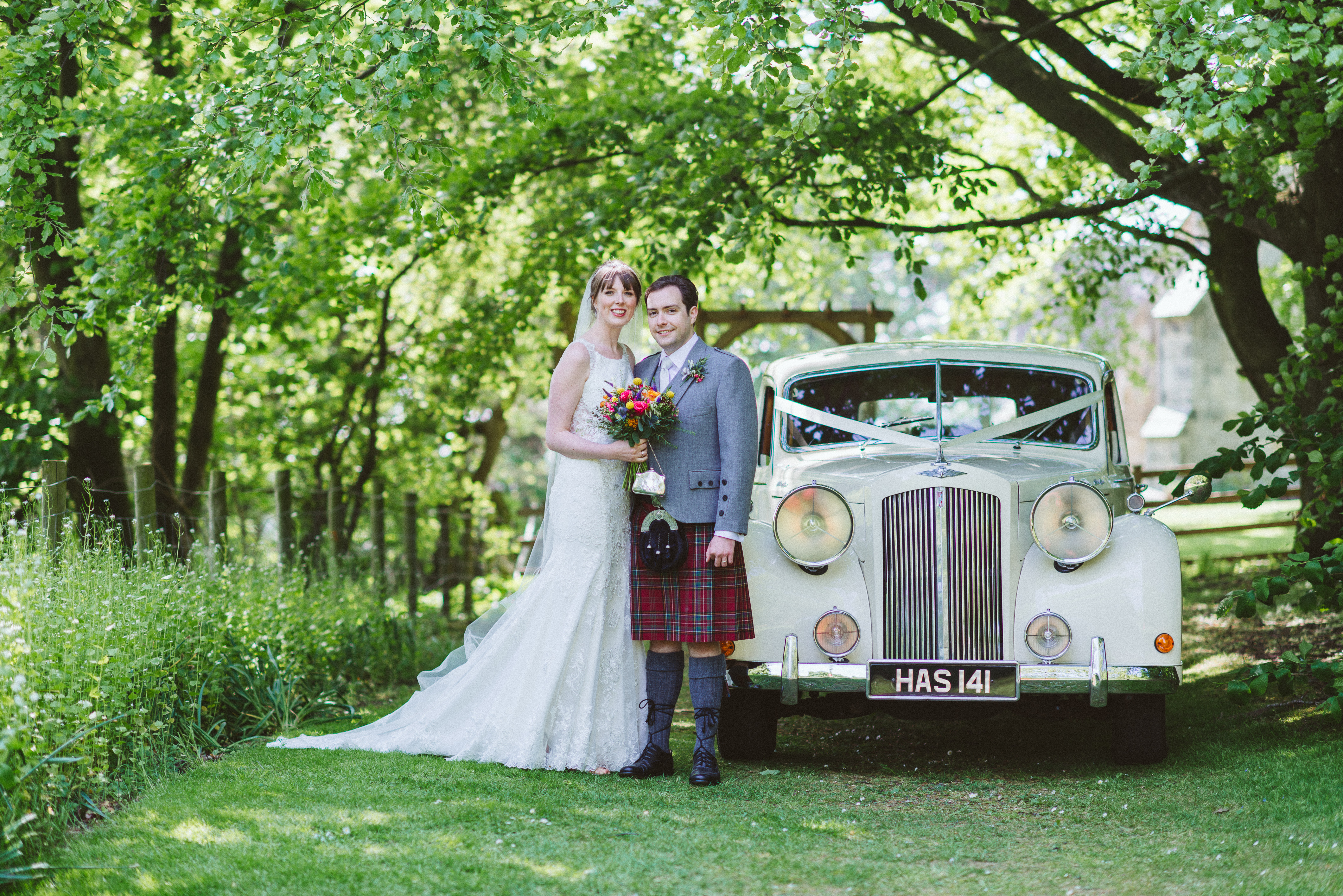 26/05/2018
I would just like to thank you and your company for supplying the wedding car for my daughter's wedding on Saturday 5th May 2018. Your contribution was a major part of an unforgettable day. Please convey my thanks to the chauffeur, he was excellent and we had a bit of a laugh which helped ease the nerves.
Alan Turnbull Father of the bride Royal Scots Club Edinburgh 5th May 2018
Just to say thank you so much for everything! We had a truly wonderful day and the car just made it perfect. Thank you for your friendly and professional service. We will definitely keep you in mind for future occasions and recommend you.
From Stuart & Maike married 29th March 2018 at City Chambers, Edinburgh.
We are just getting our feet back on the ground here but wanted to say a big thank you from us both for helping out on the day. The car was fantastic and fitted the occasion perfectly bringing back a lot of memories for the family as well as providing new ones for my wife and I.
From Derek & Simone Dick married 14th October 2017 at Aberlady Parish Church.
Just wanted to say thank you for my beautiful wedding car on Sunday 28th May 2017 and thought I'd share a photo of us from the day. Our driver Graeme was such a gentleman and we had a lovely drive with him.
From Claire Cairney married 28th May 2017 at Kirknewton House Stables.
Just a note to say thank you very much for providing such a good service on Saturday – much appreciated by all. It was a wonderful day!
From Laura & Ian married 6th May 2017 at Humbie Kirk with reception at Winton Castle.
Just a quick note to say thank you so much for driving me to my wedding in your beautiful car! My husband and I had a truly wonderful wedding day and to travel in such style was the icing on the cake!
From Laura and Alistair (Mr & Mrs Mackay) Married 29th September 2016
We would like to thank you for the hire of your beautiful 1952 Austin Sheerline for Katie's wedding last Saturday. We all enjoyed being in it for the journey to Crichton church and then on to Oxenfoord Castle. Please pass on our thanks to John for looking after us so well.
From Lesley Beckett (Katie Beckett's mum 24th September 2016)
First class service and such beautiful cars. We had a fabulous day in our hired vintage car from Robert and his team. I would highly recommend.
From Laura Ellis married 15th June 2016
Beautiful car for our wedding on 4/6/16. Driver took us everywhere we wanted to go. Dealt with Robert through all our communications, who was very friendly and professional. Excellent service by a smaller local business!
From Gillian Welsh married 4th June 2016
From Natalie Muir-Hopkins married 2nd April 2016 Just a quick message to say thank you for all your help with the cars for our wedding back in April at Mansfield Traquair, Edinburgh. They were perfect for our day and such a lovely way for myself, my parents and my bridesmaids to travel to the venue. We also loved going up to Calton Hill to have our photos taken in such a stylish car! I've attached a couple of pics from our day that I thought you might like to see.

We wanted to say thank you so much for the use of your car on our wedding day on the 24th October in Peebles and also to the driver. It really did add to the day and make it even more special and it looked stunning in the photographs! I have attached one of the many amazing photos that was taken with the car.
From Yvonne Burden Married at Cringletie Hotel, Peebles 24/10/2015
Friendly, Reliable Service
A friendly, reliable service, we had looked at other wedding car providers, but none came up to the standard we were looking for. The Daimler was beautiful, very clean and had the most gorgeous flowers inside. I would recommend Lothian Classic Cars to everyone! Don't waste your time looking for other providers, this company is the best. Thank you so much for making our day that bit more special.
From Gordon Peerless Married at Neidpath Castle, Peebles 03/10/2015
Very Very Happy!
From the first enquiry Lothian Classic Wedding Cars provided excellent customer service. We were shown all available cars and even offered a test drive. They were able to cater for my young flower girls who required car seats. I felt like a princess and my dad loved the Sheerline. The Daimler was excellent and managed to fit my 4 bridesmaids 2 flower girls and my mum. Very very happy!
From Fiona McWatt Married North Berwick 28/08/2015
Above and Beyond the Call of Duty!
I would just like to thank both your drivers who I must say went above and beyond the call of duty! Not only did they arrive promptly, act in a polite and professional manner they entertained my seven-year old nephew by chatting about cars, pushing buttons and giving him a shot of their hats! If this wasn't enough I was struggling with my asthma and was given the driver's bottle of water on arrival which was a lifesaver! I can't thank Lothian Classic Wedding Cars enough. Your drivers who (sadly I missed their names) are a credit to your team, I couldn't have asked for more.
Louise Bowen Married at Glencorse House, Midlothian 8th August 2015
Fantastic service the car was a joy to be taken in to the wedding very eye-catching everybody was looking at it. From the day we booked and to the day itself everything was 1st class and the driver was a credit to the company. Will recommend to anybody looking for the perfect wedding car.
Lisa Whitehead married 24th July 2015
Cars turned more heads than the bride and my hat put together!
I would like to thank Robert, John and Adrian for the contribution you all made to making Claire and Simon's wedding such a brilliant event. The wedding party were all commenting on the friendliness of the drivers and the cars turned more heads than the bride and my hat put together. It was quite an experience being driven through Edinburgh in them. From Mary Kennedy mother of the bride.
Claire & Simon married at the Reid Memorial Church, Edinburgh 4th July 2015
Beautiful vintage car and excellent service.
Lothian Classic Cars provided exactly what they promise on the tin – a beautiful vintage car and excellent service. With Robert Mair's help stylish transport to and from the church was one thing less to worry about on the day. Great that the Austin limo was big enough to accommodate 7 and give the bride, 3 bridesmaids, page girl and 2 parents the thrill of the vintage car experience on the way to the church.
Jonathan & Suja married at St Vincents Chapel, New Town Edinburgh 3rd July 2015
Thank you so much for being such a wonderful part of our Wedding Day.
You were spectacular! From saving us when the other car hire company backed out on us at the last moment, to the wonderful banter while in the car for both legs of the drive, to being descended on by tourists at Edinburgh Castle and finally to the 1950 Austin A.125 Sheerline being more than I could have ever imagined. The car was the perfect touch to make our wedding just so special-the crowing jewel!
We are so grateful to have found you when we did.
Major Torquil and Ann-Marie Corkerton Married at St Margarets Chapel, Edinburgh Castle on 26th November 2014

Beautiful Car & Friendly Service
Fantastic service from my initial enquiry through to the wedding day. Car was beautiful and presented very well. Turned up early to allow time for photos and driver was very friendly. The price compared to other companies was excellent. Would definitely recommend.
Thank you
From Natasha McGovern Married at St Mary's Church, Dalmahoy West Lothian on 09/08/2014
Special Cars & Special Service
Lothian Classic Wedding Cars provided my bride and I with two great cars and were extremely welcoming and efficient. The quality of the vehicles were fantastic and due to bad weather we had to slightly change our schedule and the drivers were more than willing to support us with this. They helped our day to be that bit more special and I would thoroughly recommend them to any future bridal parties!
From J-W, Aberdeen Married at Mayfield Church, Edinburgh on 19th July 2014
Rolls-Royce to the Wickerman
I hired the Rolls Royce for my bride within moments of seeing a picture of it. Instantly, I knew it was the right car for my occasion. Mairi and I were being wed at the Wickerman Festival in Dundrennan, Dumfries and Galloway, which I thought would be a problem given the distance from Edinburgh, however, Robert was more than happy to make arrangements to collect my bride locally and bring her to the festival site. I only caught a glimpse of the car arriving, but most importantly, the smile on my Bride-to-be was a mile wide, and the first thing she said when she was delivered to me was "I want that car!" 5 star service from a 5 star company.
From Chris McGowan Married on 26/07/2014
Professional Service
The Lanchester was really lovely. The driver arrived early and was very professional; he even lent me the umbrella so I didn't get wet in the photos. I would definitely recommend Lothian Classic Wedding Cars to a friend.
From Sarah Beadle Married at Craigsbank Church, Edinburgh on 07/06/2014
Fantastic Car & Service
Thank you Lothian Classic Wedding Cars for providing an excellent service. From the quotation to payment to on the day management they offered a very professional service. We had the Rolls Silver Shadow which was a fantastic car! I would definitely recommend them to other brides.
From Naomi Allum Married at Fettes College, Edinburgh on 31/05/2014
Highly recommended
We booked Lothian Classic Wedding Cars for our wedding and were very happy with the cars and their professional approach and service and would easily give a 10/10 and recommend anyone that is looking for a first class service Angie & Dan Married at Lothian Chambers, Edinburgh on 10/05/2014
Fantastic service on our wedding day!
Used Lothian for our wedding last month, and were very impressed with the service! Robert was both our point of contact and our driver . . . was nice to be in contact with our actual driver prior to the day! The car was in gorgeous condition, and they pre-arranged parking/pick-up at our hotel without us even asking. Our driver was also very patient when we had to delay our departure by 15 mins to avoid running into our wedding guests as they left for the venue! Would definitely recommend this company!Marisa & Sylvester Married at The Botanic Garden, Edinburgh on 28/03/2014